School News
Adopt A School Update
Posted on

September 26th, 2017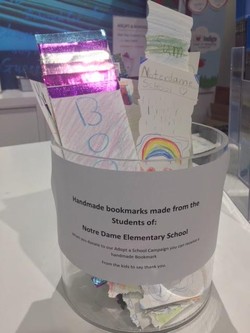 Notre Dame students have been busy making bookmarks to "sell" at our favorite store Indigo Spirit  Edmonton Int'l Airport. Thank you to all our customers who've donated money and received a very special bookmark. Together we've raised enough  money to purchase 275 books! #LoveOfReading.
We are also taking a collection at the school to get students involved. Any spare change can be donated at the front office for our "Buck For A Book"  collection. Every little bit helps towards putting books in our library and reaching our goal of 409 books for our school library!.
Finally if you haven't already done so, please "HEART"   Miss Chamulka's story on the link below. The top 5 in each province is eligible for a chance to win $2500 in new books for our school library!
Click Here to HEART Miss Chamulka's story.