General Notices
STAR Catholic Schools is committed to advising parents, students and our communities about programs and services available in our schools.
Violence and Threat Risk Assessment (VTRA)
Newsletters
We will now be providing information using the school website. Please check the School News page and or the School Notices and News section of the website.
School Notices and News
Fentanyl Information Session
Posted on

September 18th, 2017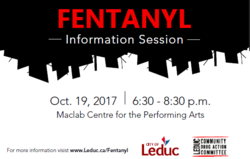 For your information, the City of Leduc is hosting an information session on Fentanyl. It is a free event, anyone is welcome to attend. For more information and how to pick up the free tickets you can visit https://www.leduc.ca/fentanyl .