General Notices
STAR Catholic Schools is committed to advising parents, students and our communities about programs and services available in our schools.
Violence and Threat Risk Assessment (VTRA)
Newsletters
We will now be providing information using the school website. Please check the School News page and or the School Notices and News section of the website.
School Notices and News
Rock Your Block
Posted on

March 21st, 2018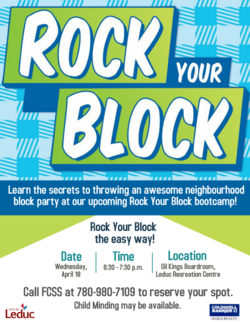 FCSS is hosting a Rock Your Block bootcamp! Lean the secrets to throwing an amazing neighbourhood block party.
Wednesday April 18th from 6:30 - 7:30 pm at the LRC 
Contact FCSS to reserve your spot! 780-980-7109